News
29/3/2017
RANCHEROS VISITADORES
RANCHEROS VISITADORES
Loon has found a new calling as a cowboy.
Every year Loon sets off to California to join members of a private organisation called 'Rancheros Visitadores'. This is a week long trek through the beautiful valleys and canyons of the Santa Ynez valley and it's surrounding wilderness that is customary in those parts; where over 100 miles is covered on horseback by over 2,000 cowboys visiting one another's ranches.
Loon's love for California dates back to more youthful times when he was newly married. He and Fiona spent 9 months living amongst the ranches and vineyards of the Santa Ynez valley. Every May he zooms back to revisit those old times and have a good old catch up with those he made life long friends with!
He has found a new and exciting source of inspiration amongst the 2,000 cowboys who join him every year in living the cowboy dream. You can see some of his new work in the 'original paintings' section of this website.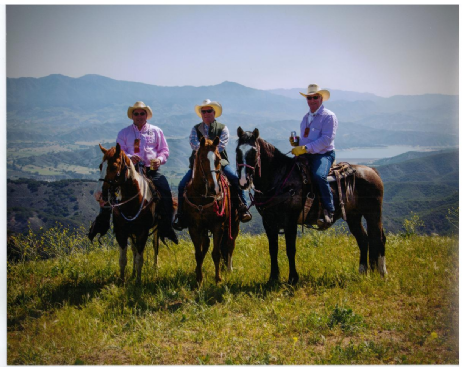 29/10/2014
Working away
Working away
Loon is busy working on commissions in his London studio!
Here in the Gas works, Fulham there are always commissions to be done
Loon works on a number of different commissions and if you would like to discuss any ideas that you have then please get in touch!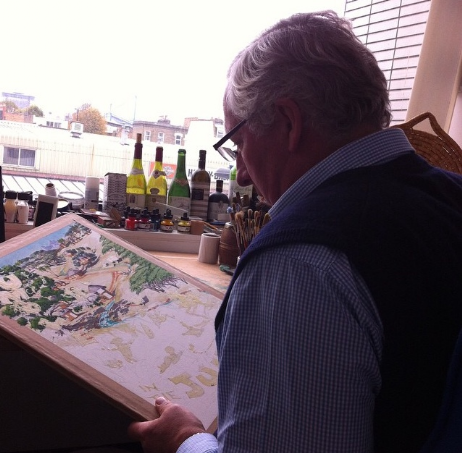 28/10/2014
The Labrador Theory
The Labrador Theory
This very entertaining book about what it means to own a Labrador is available online and some originals from the book are available too! Please don't hesitate to get in touch if you have any ideas for books that you would like to have illusrated either, it can be a great touch....